ALL NEWS
Presentation of the "Russian Ice Hockey Hall of Fame" album
The Ice Hockey Museum in Moscow hosted a presentation of the "Russian Ice Hockey Hall of Fame" album.
This photo album displays the life and historic moments of the country's leading ice hockey players. Its release is timed to coincide with the 75th anniversary of Russian ice hockey and was a joint project of the Russian Ice Hockey Federation and the Dynamo Production Centre. The album commemorates 147 hockey legends.
The ceremony was attended by renowned veterans, multiple winners of the Olympics and World Championships such as Boris Mayorov, Alexander Maltsev, Boris Mikhailov, Vladimir Yurzinov, Alexander Yakushev and many other members of the Hall of Fame. As part of the presentation, an autograph session was held for legendary players and coaches, who also shared their memories of the best moments in the history of domestic ice hockey and their impressions of the album.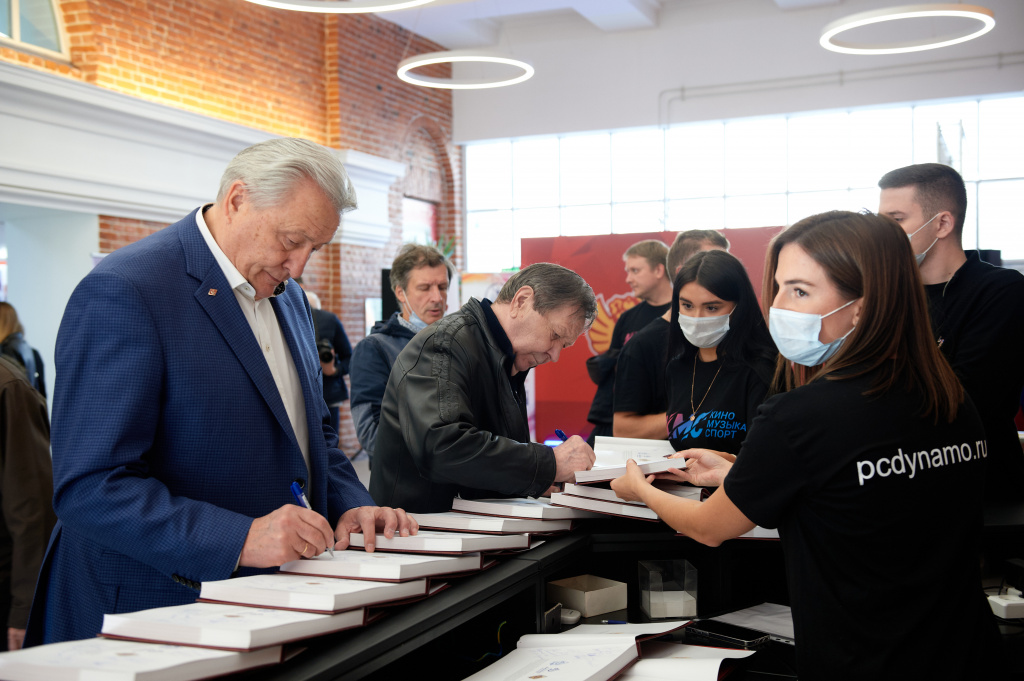 Honoured USSR and Russian coach, main consulant for the Russian national team's managemnt group Vladimir Yurzinov:
- Such events make us happy, it reminds us of the golden years of our ice hockey. This gives us even more motivation to achieve new victories. Russia needs more films and books about our great victories, the youth must know what our nation has already achieved.
Legendary USSR forward Alexander Yakushev:
- It's a wonderful book, a true gift for everyone! I am happy that our history is being celebrated in the year of Russian ice hockey's 75th anniversary.
General director of HC Dynamo Moscow and manager of the "Legends and Fate" project Mikhail Tyurkin:
- I would like to thank the chairman of the Russian Ice Hockey Federation board, Arkady Rotenberg, as he spoke about the idea of creating this album two and a half years ago. Furthermore, I am grateful to the Russian Ice Hockey Federation, Vladislav Tretiak and Roman Rotenberg for the opportunity to meet at the Ice Hockey Museum. I hope that the veterans are pleased with our efforts, which will help keep our ice hockey history alive.